From Code Black, episode "Buen Arbol":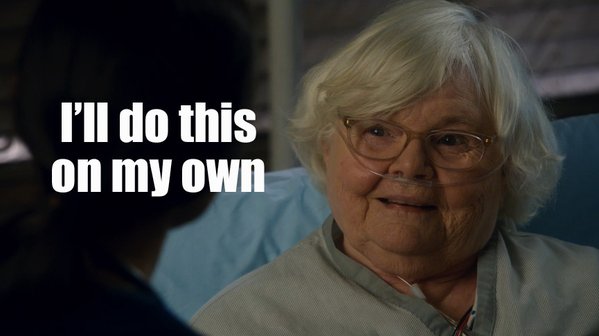 In the episode, Dorothy says this when the doctor asks if she can call her friend to be there for her during surgery. To be honest, if I was in her position, I would probably say the same thing. It is not that I don't have people that would come and be with me, it is that I have a hard time letting people help me. I am beyond blessed with a great number of people in my life who care about me. But, I struggle to let them in because I worry about being too needy, and I worry that if I ask for help, it will send off red flags and make them worry too much.
But, I have come to realize over the years that it is far worse to keep things to myself, only to have to say "oh by the way, I'm headed back to inpatient/PHP." Most of the time when I say that, people tell me that they knew I was struggling, but didn't know how to help. So, I am trying to be better about letting people in and not always feeling like I have to do everything on my own or keep my problems to myself.
At the same time, while a good support system is an important part of recovery, at the end of the day ultimately it comes down to me. I have to be the one to lift the fork to my mouth and eat, I have to be the own to make the choice to continue slogging through recovery, day after day.
Furthermore, as much as I love my friends and family, there are some days where I just want to be left alone. I think alone time is necessary for anyone. The key is to figure out when it is healthy alone time, versus isolation because of not wanting to bother people or depression.
With that being said, I just want to say thank you x a billion to all of my friends and loving family. Like I said, I am beyond blessed that I don't have to do this on my own.